About Us
Tim Kolk, President, TRK Advisors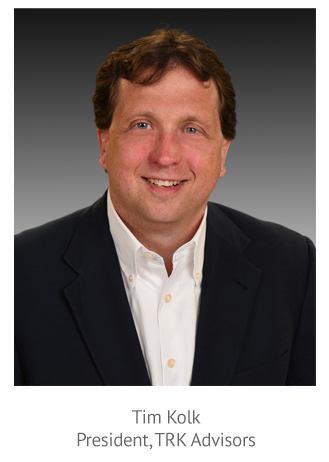 A 25+ year veteran of the credit card and financial services industry, Tim brings deep expertise in all areas of credit card program management and optimization. After earning a BA with honors at Dartmouth College and an MBA in Corporate Finance, Tim spent almost ten years in what is now a top 25 US financial institution — most of that as head of Finance for its credit card business. In 2000 he co-founded what became a leading consulting and advisory firm assisting issuers evaluate their card programs, and in 2009 started TRK Advisors specifically to bring his unique experience set to this issuing community.
Having personally analyzed hundreds of card programs, worked across all processing platforms, regularly being invited into special projects with the largest banks and brands, and built deep relationships across this entire community, no firm is as positioned to support whatever it takes to optimize any card program.
Case Study #1: Restarting a Card Program
After selling their credit card business several years prior, this institution decided to start issuing credit cards again. Based on our proprietary data set of over 125 institutions which made this same decision, TRK Advisors provided our client with the expert guidance required to evaluate all of the pros and cons of this opportunity. Upon deciding to go forward, we then provided quick and actionable project support, including product set design, pricing structures, reward program elements, marketing plans and programs, average and best-in-class benchmarks for peers, internal reporting and risk control structures, customer base segmentation methodologies, forecasting techniques, portfolio management plans, and ongoing guidance related to all elements of the rollout and program management.
Outcome:
This client is now generating its own accounts, better satisfying its customers and will be positioned to successfully do so for many years to come. Card is now a critical component of overall relationships as well as generating meaningful profitability to the entire institution.
CASE STUDIES
Restarting a Card Program
Kick-starting Growth
Product Updates for Today's Market
Consider an Agent Program

We always welcome a deeper conversation or request for additional information.
If you would like something more from us or to set up a time to speak, please use the button to the right to access our contact form. We will follow up immediately. Or call us at (603) 924-4438.